HOME THE MOUTHPIECES ABOUT HOW TO BUY CONTACT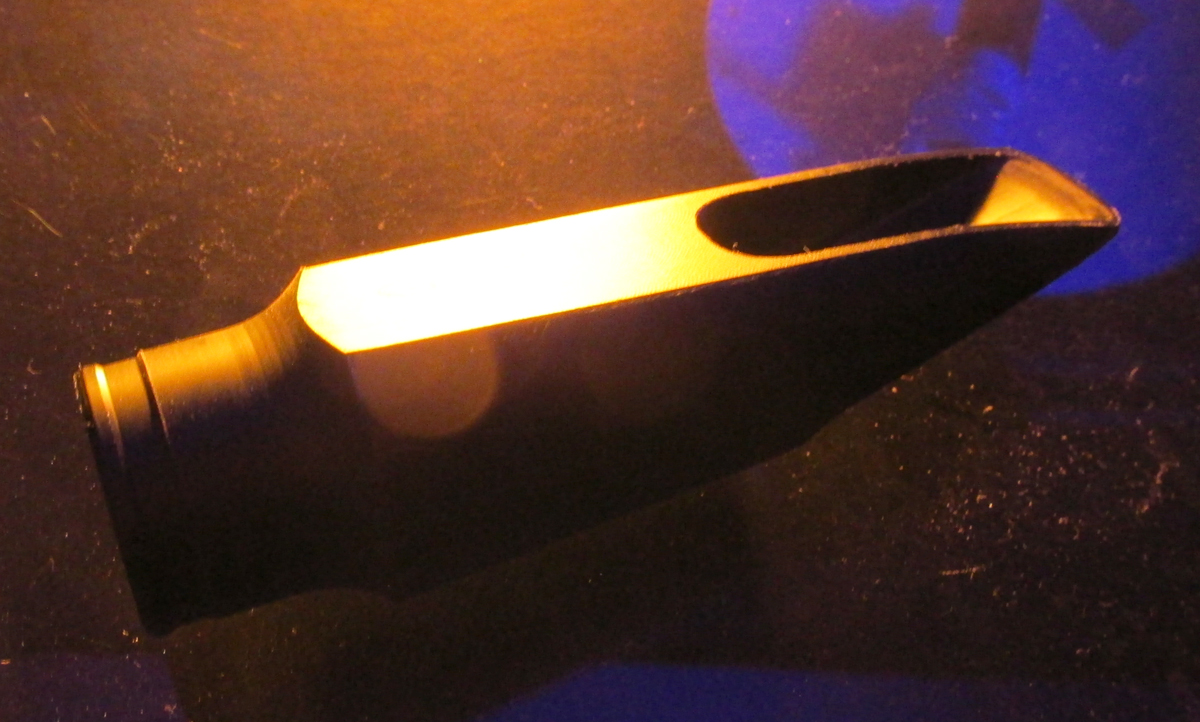 Saxscape Mouthpieces are designed for professional sax players, by a small team of sax-playing Coltrane fanatics. The "Classic" mouthpiece designs go to the roots of Otto Link, Bobby Dukoff, and Selmer designs, to make modern pieces that provide a great foundation for the styles of the old masters. The "Original" designs take those roots and grow them in interesting directions to provide cool places for contemporary players to create their own stories.
Regardless of which style works the best for you, all geometric aspects of the mouthpieces, including the facing curve and baffle, are shaped to make them as fun as possible to play. By fun, I mean: plays evenly up and down the horn; standard 48mm/2 tenor facing length; no "weird" or stuffy notes; great intonation; tip curve matches most popular reeds; perfectly symmetrical rails; the widest possible dynamic range; blowing resistance tailored to the mouthpiece style.
"How hard do you want to work to sound good?"

---
---
Tenor: Live
The Saxscape Live tenor sax mouthpiece has that classic Otto Link core sound, without sacrificing sheer volume and tone quality. Brilliant, and fat. We took the Florida Link design and pushed it to its limits.

Danny Walsh, Selmer Mark VI Tenor Sax and Saxscape Live Mouthpiece
---
Tenor: Red River
The HR Profile Red River is available again! If you need a big fat sound for a blues or R&B gig, you've got to try this one out. It works great for jazz gigs as well. There are several in stock as of today (Saturday Sept. 5, 2015) at Liberty Music in Mountainside New Jersey.
---
Tenor: Downtown
The Saxscape Downtown tenor sax mouthpiece was designed after closely studying Danny Walsh's Dukoff D9 mouthpiece which he got from Bob Mintzer. The Downtown is as bright as you want to be, without turning into just a pure paint-peeler. This is similar to Brecker's Dukoff, pre-Guardala.
Ken Barry plays the Downtown .110 SP
---
Tenor: Xtra Dark
The Xtra Dark tenor sax mouthpiece has a dark, complex core, inspired by Selmer hard rubber mouthpieces, and the sounds of guys like Rich Perry and Stan Getz.
---
Mouthpieces for Other Horns
Alto, soprano, and bari mouthpieces are currently in development.
---
Ken Barry studied sax with Gary Campbell and David Liebman, and has been making mouthpieces since 2005. He studied music and engineering at University of Miami, got a degree in Fine Art from Florida State University, played professionally in Kansas City, then moved to the Northeast to pursue musical instrument and accessory development. He takes high quality proprietary mouthpiece blanks and hand finishes them to exacting specifications.
Nick Franciosa studied with Bob Berg, Lenny Pickett, and Steve Grossman, and used to work for Dave Guardala as his horn tester. He has been instrumental in guiding Saxscape mouthpiece development for the last 8 years.
Danny Walsh is a professional NYC-based sax player. He has played and recorded with Lenny White, Donald Brown, Mulgrew Miller, The Allman Brothers, and Aerosmith. He's been working with Saxscape on designs for the last 3 years.
Mouthpiece Material: Saxscape mouthpieces are made from Delrin, a synthetic resin developed in the 1960's as a replacement material for metal. Delrin is extremely tough and holds shapes very accurately. It's also FDA approved for food-safety.
Mouthpiece Body Design: The HR profile is designed to be the same size as a hard rubber Otto Link, a standard size chosen for the convenience of finding a suitable ligature.
How They're Made: Ken Barry makes the mouthpiece blanks from bar stock Delrin with custom manual and CNC machines, and does the finish work by hand. He play tests each piece before sending it out, and then the pieces are quality tested again by Nick Franciosa before they are approved for sale. More tip openings will be available in the future. Updates will be here and at my Facebook page.
---
Pricing: All tenor mouthpieces are $350.
Mouthpieces in stock:
Liberty Music
in Mountainside, New Jersey is an Authorized Saxscape Retailer. Please contact Brian by email at
brian.clines@libertymusic.us
for sales assistance.
Online sales: Please contact me by email at saxscape@gmail.com, or call 570-350-5843 for availability of pieces I have here at the workshop.
Returns/Exchanges: You have 2 weeks to try out the piece, and either return it for a refund or exchange for a different size or style of mouthpiece. Please use a tooth pad when first trying it out to keep it in the best condition.
---
Ken Barry, saxscape@gmail.com, phone 570-350-5843

Visit us on Facebook